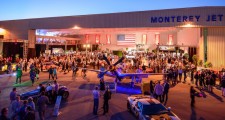 Monterey, California, July 14, 2016 (Newswire.com) - ​​In 1992, McCall's Motorworks Revival for the first time brought automotive and aviation interests together, creating a luxury lifestyle event unlike any other. Now celebrating their 25th Anniversary, this kick-off party for the world-renowned Monterey Car Week continues to push forward into new arenas as they welcome accomplished chefs and exclusive boutique wineries into the fold.
Meet the Chefs
On Wednesday, August 17, 2016, thousands of enthusiasts will flock to the Monterey Jet Center to partake in an event that celebrates the finest in automobiles, motorcycles, aircraft, and now food and wine. McCall Events has partnered with four celebrity chefs, each of which will offer their creations for those in attendance.
Tim Wood | Executive Chef, Carmel Valley Ranch
Chef Tim Wood learned the importance of local seasonal ingredients early in his culinary career in the Catskills. After gaining experience at prestigious Manhattan restaurants, Chef Wood found himself in Carmel Valley in 2000, working with renowned Chef Cal Stamenov at the Bernardus Lodge. Now Executive Chef at the freshly renovated Carmel Valley Ranch, Chef Wood utilizes the region's fresh seafood and fresh seasonal produce (much of which is grown and picked in the Ranch's on-site garden) to create culinary masterpieces.
Todd Fisher | Executive Chef, Tarpy's Roadhouse
Chef Todd Fisher has held several prestigious posts around the Monterey Peninsula, orchestrated lively culinary collaborations, pioneered farm-to-table dining, and traveled the country as the host of "The United States of Bacon" on Discovery Channel. Since 2014, Chef Fisher has served as Executive Chef at the historic Monterey landmark, Tarpy's Roadhouse, where he serves bold American cuisine anchored in a casual style with sophisticated techniques.
Tony Baker | Executive Chef, Montrio Bistro
Chef Tony Baker got his start at several highly acclaimed restaurants throughout England, and made his way to the United States in 1994. As part of Monterey's Downtown Dining Group and serving as Executive Chef of Montrio Bistro since 1997, Chef Baker has been doing his part to help elevate the nation's culinary standards by promoting the use of sustainable and local ingredients. His trademark creations have elevated Montrio Bistro to become the "go to" restaurant in Monterey.
Jérôme Viel | Executive Chef and Owner, Carmel Valley Market
A classically trained French chef born in Brittany, Jérôme Viel traveled throughout Europe to study each region's culinary specialties. With years of experience working with world renowned chefs, including a stint at two-star Michelin restaurant Albert 1er in Chamonix, Chef Viel moved to the US in 1999 and worked at the Bernardus Lodge, Stonepine Estate Resort and Will's Fargo Dining House and Saloon. In 2016 Viel purchased a local grocery store, offering a curated selection of food, wine, and butcher and deli services to locals and visitors alike.
Chef Viel will be in the main tarmac bar with special pairings of Beluga Vodka and caviar from California Caviar. Featured on E!, CNBC and ABC, California Caviar Company is the first woman-owned and operated sustainable caviar company in the United States. The company focuses on sustainable aquaculture, innovation and education to provide this delicacy with minimal impact on the environment.
Meet the Wineries
No party would be complete without refreshments, and guests at the all-inclusive event will be treated to specialty cocktails and beer from event sponsors Aviation Gin, Austin Cocktails, Bette Jane's Craft Sodas, Beluga Vodka, El Jefe Tequila, and Stella Artois. Attendees will also have the rare opportunity to enjoy wine from five exclusive boutique wineries.
Bernardus Winery
Founder Ben Pon dreamt of creating a Carmel Valley red wine equal to the finest of wines from Bordeaux. Bernardus Winery is the fulfillment of that dream with their estate Bordeaux blend called Marinus, along with single-vineyard Pinot Noir, Chardonnay and Sauvignon Blanc. An auto enthusiast as well, Pon will have one of his race cars on display at the event. Learn more at www.barnardus.com.
Ram's Gate Winery
Ram's Gate Winery in Sonoma has made a name for itself by producing small lot Chardonnay and Pinot Noir, and co-founder Peter Mullin also happens to be an auto enthusiast. Mullin also serves as CEO of the Petersen Automotive Museum and will be showing a car from his collection at the event. Learn more at www.ramsgatewinery.com.
Altamura Vineyards & Winery
In the eastern foothills of Napa Valley lies Altamura Vineyards & Winery, a family-owned operation that is known for its Cabernet Sauvignon. All Altamura wines are 100 percent varietal and are made from estate grown grapes. Founder Frank Altamura is a vintage sports car racer and will be bringing one of his race cars to the event. Learn more at www.altamura.com.
Benovia Winery
Situated in the heart of the Russian River Valley and with vineyards scattered throughout the Northern California wine country, Benovia Winery's small lot Chardonnay, Pinot Noir and Grenache have earned numerous accolades for their depth and balance. Founders Joe and Mary Anderson are auto and aviation enthusiasts as well, and are supporters of the CHP 11-99 Foundation. Learn more at www.benoviawinery.com.
The Mascot
The Mascot is the new label from Will Harlan, son of Napa Valley legend Bill Harlan. This highly exclusive wine is produced in very small quantities and only offered to members, so guests at the event will have a rare opportunity to taste this wine. The Harlans are both avid motorcycle and car collectors and will be bringing a piece from their collection to the event. Learn more at www.mascotwine.com.
Roederer Estate
No party would be complete without the bubbly! Anderson Valley-based Roederer Estate has supplied McCall's Motorworks Revival with sparkling wine for many years, and will be bringing something special for the Red Carpet Club. Learn more at www.roedererestate.com.
Experience these exciting culinary delights and small lot handcrafted wines only at McCall's Motorworks Revival, August 17, 2016. To learn more about the event or to purchase tickets, visit www.mccallevents.com.
About McCall Events, Inc: Since pioneering the concept of joining aviation and automotive interests with their inaugural event in 1992, McCall Events have continually produced one of the most exclusive luxury lifestyle galas in the world with McCall's Motorworks Revival. Learn more at www.mccallevents.com.
Source: McCall Events, Inc.
Share: