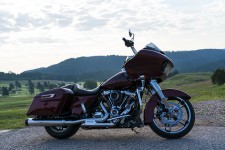 The North Carolina-based aftermarket exhaust manufacturer has been cleared to make and sell Clean Air Act compliant exhaust systems for Harley-Davidson M8 Touring models.
ARDEN, N.C., April 30, 2019 (Newswire.com) - ARDEN, N.C., April 30, 2019 (Newswire) -​​​Rinehart Racing®, the leading manufacturer of aftermarket exhausts for Harley-Davidson® and Indian® Motorcycles, has been issued an Executive Order by the California Air Resources Board (CARB) and has met the requirements of the Environmental Protection Agency (EPA) to manufacture and sell a full exhaust system that complies with Clean Air Act regulations. The company's forthcoming Slimline Duals system has been certified EPA and CARB emissions compliant and will be legal for sale in all 50 states.
"Indeed, this is the beginning of a new chapter as we innovate and evolve into a regulatory compliant performance company," commented Rinehart Racing President and CEO, Judd Hollifield. "Our primary focus has always been and will continue to be to provide our customers with the performance products that they want. Up until now, that limited riders in California to our emissions compliant slip-on mufflers. This new full exhaust system will provide those riders seeking significant performance gains with a new option in the exhaust aftermarket."
The new exhaust system is a variation of Rinehart's popular Slimline Dual system, which will be compatible with 2017-Later Harley-Davidson touring motorcycle models. The system will be available for purchase with any combination of Rinehart's 4-inch or 4.5-inch touring slip-on mufflers.
Independent dynamometer testing shows that the new EPA-approved Slimline system shows a significant increase in torque and horsepower, in comparison to the stock exhaust system. In fact, side-by-side comparisons showed better performance over other EPA-approved aftermarket systems. Now, for the first time, a rider can remove their stock exhaust and replace it with a regulatory compliant Rinehart system for better performance.
"This issuance has been years in the making, but in reality is just the latest step on the road to compliance," Hollifield explained. "In addition to the emissions compliant slip-on products that are currently in our product catalog, we have already developed a line of exhaust products that meet and exceed European regulations. We look forward to continuing to produce exhausts that are available to all riders, regardless of where they live."
The new emissions-compliant Slimline Dual exhaust system is expected to be available online and from authorized dealers in Summer 2019. For more information about Rinehart Racing's lineup of exhaust products for Harley-Davidson and Indian Motorcycles, visit www.rinehartracing.com, and follow them on Facebook and Instagram for the latest news and updates.
About Rinehart Racing:
From its beginnings as the exhaust system of choice for championship-winning NASCAR® and IndyCar® teams to its rise in the v-twin motorcycle marketplace, Rinehart Racing® has established itself as a premier manufacturer of performance exhausts for Harley-Davidson® and Indian® Motorcycles. The American-made exhaust systems are now well-known for their distinctive sound, elegant style and signature end caps, a testament to the company's innovative designs, proprietary technology and quality craftsmanship. Rinehart Racing is committed to providing motorcyclists with emissions compliant exhaust products and is dedicated to offering the best customer service possible, welcoming new riders to the Rinehart Family one exhaust system at a time. Learn more at www.rinehartracing.com.
Source: Rinehart Racing
Share: